Baptist Golden Triangle PGY1 Pharmacy Residents
Claire Loden
PGY 1 Resident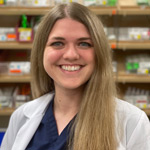 Undergraduate degree
Bachelor of Science in Pharmaceutical Sciences; University of Mississippi; Oxford, MS
Pharmacy degree
Doctor of Pharmacy; University of Mississippi School of Pharmacy
About Claire
Claire grew up in Tupelo, Mississippi. Her interests include infectious diseases, and she is excited to spend more time in the emergency room and critical care unit this year. In her spare time, she likes to take her dog on walks, cook, and watch movies. She also likes to find new places to hike and travel with her husband, whom she married in May 2022.
Why did you choose Baptist?
I spoke to colleagues that did rotations here and to the previous class of pharmacy residents. I was told that there were plenty of opportunities to grow as a pharmacist, and that they felt confident about practicing in a hospital setting at the end of their PGY1 year. Additionally, there are a lot of learning opportunities both within the pharmacy and with the medical residents. But the biggest influence on my choice was the people. I wasn't 100% sure until I interviewed in person, and I felt like I fit in here. The pharmacy staff members are excellent resources and have already become great friends.
Why did you choose pharmacy as a career?
My grandfather was the person who originally pushed me to pursue pharmacy. He has always been one of my biggest supporters, and I began my pharmacy journey because of his guidance. I discovered that I really liked medicine and that practicing pharmacy was a great way to help people. The most rewarding part for me is simply helping sick people get better. I also like the challenge of keeping up with new changes and information as the field of pharmacy is constantly evolving.
Why would you recommend Baptist to a prospective applicant?
The pharmacy staff here is incredible and the goal is to help you learn and develop into a self-sufficient pharmacist who provides everyone the kind of care that you'd want provided to your family members. There are so many learning opportunities and you are pushed to learn proactively. Preceptors and mentors are always willing to help, but still allow you to have a lot of independence. The opportunities to learn here are truly endless, and I am honored to be a resident this year at Baptist Memorial Hospital-Golden Triangle.
Katrianna Pranga-Saltarelli
PGY 1 Resident
Undergraduate degree
Bachelor of Science in Pharmaceutical Sciences; Wilkes University; Wilkes-Barre, PA; 2020
Pharmacy degree
Doctor of Pharmacy; Wilkes University; 2022
About Katrianna
Katrianna, who also goes by Kat, was born in New York and just recently got married. She has experience working in an independent pharmacy and a grocery store pharmacy. While in school, she worked on ALERT-ICU, a research study with the goal of determining the current analgesia and sedation weaning practices in adult ICUs. Her favorite activities include reading and riding horses, and her favorite things involve coffee and sour candy.
Why did you choose Baptist?
I chose Baptist because of the camaraderie and family atmosphere. The learning environment was the best fit for me, too.
What is your day like as a resident?
Days as a pharmacy resident can be very stressful. To go from schooling then to a new place and learning how to be independent as a new pharmacist were the most challenging hurdles to get over. However, everyone here is supportive and tries their best to make you feel comfortable, and I always walk away feeling like I can learn and improve every day.
What do you like most about Columbus?
Columbus' climate is a big change from my hometown's weather, and it's definitely an escape from the snow! The town also has very welcoming people and a variety of unique food choices.
Why did you choose pharmacy as your career?
This may sound unusual, but I grew up around horses and caring for them. What got me interested in pharmacy was preparing and providing their medications, as well as helping with their routine vaccinations. I also love helping people and wanted to provide them the same care, and I knew I could. So I moved on to working in an independent pharmacy and eventually to an inpatient setting.
Why would you recommend Baptist to a prospective applicant?
I would recommend Baptist to a prospective applicant because of the variety of choices in rotations and the accommodating atmosphere. There is always something to learn, and this is a great group of people who go above and beyond to help you be the best resident you can be.
Samantha Treinish
PGY 1 Resident
Undergraduate degree
Bachelor of Science in Pharmaceutical Sciences; Cedarville University; Cedarville, OH; 2019
Pharmacy Degree
Doctor of Pharmacy; Cedarville University; 2022
About Samantha
Samantha is originally from Columbus, Ohio. As a student, she worked in a chain retail pharmacy and then an inpatient pharmacy, where her love for inpatient pharmacy grew. Her personal interests are cardiology, diabetes and ambulatory care. Samantha enjoys working out, running, playing soccer, reading, and playing with her puppy. She also enjoys visiting and shopping downtown with her husband, her high school sweetheart who is now an Air Force pilot. They married in 2019.
Why did you choose Baptist?
I chose Baptist because of my time as an Advanced Pharmacy Practice Experience student at Baptist. The APPE program at Baptist showed me time and again how all of the staff go above and beyond to treat their patients while helping those around them learn and grow. I knew the pharmacy staff would support me well and challenge me to grow clinically, professionally and personally.
What's your favorite thing about Columbus?
My favorite thing about Columbus is the planes flying from the Air Force Base. My husband is a pilot and trains at the base and I love being able to look at the sky and see many different airplanes flying at any time.
Why did you choose pharmacy as a career?
For me, pharmacy was a good balance between clinical thinking and my desire to help others. I love being able to be part of a team that is having a direct impact on patient's lives. Knowing I am able to make a difference in a patient's life is really rewarding.
Why would you recommend Baptist to a prospective applicant?
Baptist has amazing pharmacists and preceptors who challenge you and are always supporting you. The hospital is the perfect size to see a variety of clinical cases but not get lost in the crowd of learners. The program also has a lot of flexibility to accommodate requests and personalize your schedule to help you reach your future career goals.