Baptist Cancer Center Oncology Pharmacy Residents
Katelyn Brown
PGY1 Resident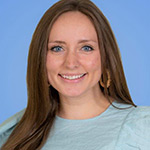 Undergraduate degree
Bachelor of Science in pharmaceutical sciences; University of Mississippi; Oxford, MS; 2018
Pharmacy degree
Doctor of Pharmacy; University of Mississippi; 2021
About Katelyn
Born and raised in Ocean Springs, Mississippi, Katelyn went to undergrad and pharmacy school at University of Mississippi. Her pharmacy interests include oncology and transitions of care. In her spare time, Katelyn enjoys listening to true crime podcasts, exercising, and spoiling her goldendoodle.
Why did you choose Baptist?
In addition to providing me the tools I need reach my specific professional goals, Baptist has a wide variety of learning experiences to mold me into a well-rounded pharmacist. While the learning experiences sparked my interest, it was the people and the learning environment at Baptist that ultimately encouraged me to choose the program.
What is your day like?
A typical morning entails completing a medication reconciliation for patients seen in clinic and participating in multidisciplinary rounds. Afternoons are full of meetings, topic discussions, and working on longitudinal projects. I am thankful for the meaningful patient interactions I've had thus far. Our patients make the busy to-do lists worth it.
What is your favorite thing about Memphis?
I love Memphis! There is always something going on, lots of places to walk my dog, and so many great restaurants to try.
Why did you choose pharmacy as a career?
Growing up with a parent with cancer exposed me to many health care professions at an early age. I valued that the pharmacists on my dad's team supplied the medications that kept him alive and well. I am proud to be a part of a profession that empowers patients to overcome their diagnoses by providing the gift of modern medicine.