DeSoto PGY1 Pharmacy Residency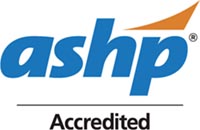 The Baptist DeSoto PGY1 pharmacy residency program is a 12-month program that will emphasize training in all aspects of the acute care pharmacy practice model with the goal of developing the residents' expertise, knowledge, and skills.
Residency Information
Number of Positions: 3
Application Deadline: January 1, 2024
Starting Date: June 24, 2024
Program Length: 52 weeks
Interview Required: Yes
Estimated Stipend: $46,000
Benefits:
Health, vision, and dental insurance provided as a full-time employee of Baptist DeSoto
Personal time off (15 days)
Professional leave for ASHP Mid-Year Clinical Meeting and Mid-South Residency Conference (MSRC)
Stipend for ASHP Mid-Year Clinical Meeting expenses
Personal office space with a desktop computer
Free parking
Requirements for Acceptance:
Doctor of Pharmacy degree from an ACPE-accredited program
Letter of intent
Curriculum Vitae
3 letters of recommendation
Eligible for Mississippi licensure
College transcripts
ASHP PGY1 Residency Program Purpose
In accordance with ASHP guidelines, the residency program at Baptist DeSoto functions under the following purpose:
The PGY1 pharmacy residency program at Baptist DeSoto is designed to build on Doctor of Pharmacy (PharmD) education and outcomes to contribute to the development of clinical pharmacists responsible for medication-related care of patients with a wide range of conditions, eligible for board certification, and eligible for postgraduate year two (PGY2) pharmacy residency training.
Clinical and Longitudinal Preceptors
Residents are provided the opportunity to train alongside clinical pharmacy preceptors who have expansive educational backgrounds and diverse experiences to enrich their learning and hands-on experiences.
Residents are able to choose a facilitator for the year. The facilitator assists the resident with establishing a plan for the year based on career goals, previous experiences, areas for growth and progression throughout the year. The facilitator and resident will meet on a monthly basis to ensure the resident is on track with the requirements of the residency.
Training site information
Baptist Memorial Hospital-DeSoto
339-bed tertiary care hospital located in Southaven, Mississippi (15 miles from downtown Memphis)
Designated a Top Performing Hospital by U.S News and World Report
Comprehensive care facility with diverse patient care services with a robust hospital medicine team, pulmonology, oncology, emergency medicine, cardiology, and various surgical services
GME training site for family medicine residents as well as transitional year residents specializing in radiology
71-bed emergency department sees more than 60,000 patients each year from DeSoto county and surrounding areas
The emergency department and the comprehensive heart program are accredited for atrial fibrillation, heart failure, and chest pain by the American College of Cardiology
Baptist Memorial Hospital-DeSoto Pharmacy Department
Practices through a decentralized model to enhance patient care and improve interdisciplinary interaction with hospital staff
Utilizes decision support software to assist in appropriate medication monitoring
Serves as an ASHP accredited resident practice site since 2013
Plays a vital role in targeted initiatives including heart failure, stroke, sepsis, as well as medication safety
PGY1 Pharmacy Resident Responsibilities
Improve patient care, safety and economic impact relating to medication use in multiple settings
Actively participate in multidisciplinary family medicine and ICU rounds
Assess and improve medication appropriateness through utilization of evidence based medicine
Manage physician-initiated pharmacy consults including:

Nutrition support
Pharmacokinetics
Renal dosing
Patient education
Anticoagulant monitoring
Drug information
Core measure compliance

Participate in multidisciplinary committees
Assist with precepting students on rotation
Attend and provide medication-related support during an emergency response
Identify and report medication errors and adverse drug events
Assess for practice improvements in drug distribution services
PGY1 Pharmacy Residency Learning Experience Overview
Orientation will be 4 weeks in length, which will include hospital, EPIC, and CITI program training, as well as BLS/ACLS certification and competency completion. The residency program will consist of 4 required learning experiences and 4 elective learning experiences (listed below) and 1 month of dedicated project time during December. Each rotation learning experience is 5 weeks in length. Learning experiences are clinical rotations with a strong patient care focus. These form the basis of structured resident daily activities and take priority in workflow. Other elective experiences could be developed based on resident interest and preceptor availability.
Required Rotational Learning Experiences (5 WEEKS)
Internal Medicine
Critical Care
Practice Management
Clinical Staff Model
Elective Rotational Learning Experiences (5 weeks)
Antimicrobial Stewardship/Infectious Diseases
Medication Safety
Emergency Medicine
Advanced Emergency Medicine
General Cardiology
Advanced Cardiology
Advanced Internal Medicine
Advanced Critical Care
Oncology Clinic
Required Longitudinal Learning Experiences (12 months)
Service Commitment (staffing)
Project Management
8 Journal Clubs
2 Pharmacy Grand Rounds
1 ACPE-Accredited Continuing Education Presentation
1 Formulary Monograph or Hospital Protocol
1 Hospital Newsletter
1 Medication Use Evaluation
ADE and ADR Reporting
Staffing Requirements
Each resident will be required to work every 3rd weekend. The resident will work an 8-hour shift on Saturday and Sunday during their assigned weekend. Weekend coverage consists of clinical consults and troubleshooting any clinical concerns that arise, including for the emergency department via a dedicated phone and pager until 12:30 pm. The resident that works the weekend shift will also be required to carry the 24-hour clinical pharmacy pager to handle after hour needs from the Monday before their weekend until the Monday morning after their assigned weekend. The week while on call the resident is also responsible for code response.
Additionally, each resident will be required to complete a weekly evening shift in the main pharmacy consisting of order verification and IV room coverage.
PGY1 Pharmacy Residency Contact Information
Jonathan Mitchell, PharmD, BCPS, BCGP, BCCCP, BCEMP
PGY1 Pharmacy Residency Director
Clinical Pharmacy Specialist, Emergency Medicine
Baptist Memorial Hospital-DeSoto
Department of Pharmacy Services
7601 Southcrest Parkway
Southaven, MS 38671
[email protected]