Setting the Standard for Patient Safety
Safety comes in numbers. We're up to 11!
For the 11th consecutive year, the Leapfrog Group has awarded Baptist Golden Triangle an 'A' rating - the gold standard for patient safety. We are one of only 20 hospitals in the country to be awarded an A in every Hospital Safety Grade cycle since 2012.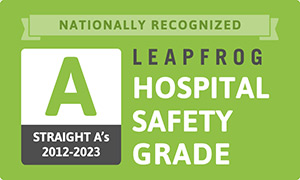 Leapfrog Hospital Safety Grade
Leapfrog Hospital Safety Grades provide consumer-friendly, patient-reported data and research to help you make informed decisions about a critical aspect of your hospital stay – safety. They are assigned to nearly 3,000 general acute-care hospitals across the nation twice annually based on up to 30 national performance measures, including:
Preventing surgical errors, falls and patient injuries
Protection from common hospital infections, including Methicillin-resistant Staphylococcus aureus (MRSA) and Clostridium difficile (C. diff)
The responsiveness of the hospital staff
Communication about medicines
Communication with nurses and doctors
Now, more than ever, you and your loved ones' safety are a top priority at Baptist Golden Triangle. And we have the grades to prove it.